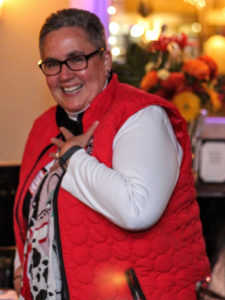 Congratulations to Colleen Parisi, owner of A Walk in the Park with Colleen for being nominated and chosen as The Savvy Professional Woman Networking Group Woman of the Month.
Colleen opened A Walk in the Park with Colleen in 2016, and has been planning magical Disney experiences for years!!
It all started with a promise to a child that he would go to Disney and have a wonderful time.  The trip was good but not wonderful because she did not know enough or plan enough, like you, she was overwhelmed.
It became her mission to learn EVERYTHING she could about Disney vacations- the planning, the reservations, the park touring, the breaks, etc.
She is determined that no one have a bad time at Disney, after all, it is the Happiest Place on Earth!
That is when A Walk in the Park with Colleen was born and the goal to create YOUR magical Disney Experience began.
To connect with Colleen please visit her website at http://awalkintheparkwithcolleen.com/