Congratulations to Jenn Dugan, from The Makeup Curio, for being chosen as our Savvy Business Woman of the Month.  Thank you Jenn for being a huge support to our community, we look forward to seeing you at your new storefront in October!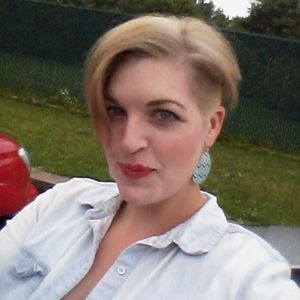 Jenn has an extensive background in theatrical costumes, hair, and makeup. After receiving a Bachelors Degree in Fashion Design from Marist College in 2004, she went on to freelance around the country in the world of entertainment. Because many smaller theaters had low budgets, as a costume designer, she also frequently designed the hair and makeup. A self taught makeup artist, I have since transformed clients for their wedding day, fashion photos, film shoots, Halloween, and theatrical performances.  In May 2016 she completed her AAS in Business Administration from SCCC.  The Makeup Curio was established in August 2016.  Knowing the goal was to always have a brick and mortar store, Jenn recently acquired her NYS Esthetics license to incorporate facials and waxing services to the beauty side of the business.
The Makeup Curio is a retail and service business blending the beautiful and the unusual.  Jenn aims to create an experience that allows customers to transform themselves with skincare, beauty, body painting, theater, and special effects through curated retail, transformation services, and curiosity workshops. Transformation services include special occasion and bridal makeup applications, fashion and boudoir photo shoots, theatrical design for academic, community and regional theaters, facials and waxing, and makeup design and application for commercial and film. Their curiosity workshops educate ages 12 and up in beauty, theatrical and special fx makeup, all year round.
To connect with Jenn and learn more about her business click here.